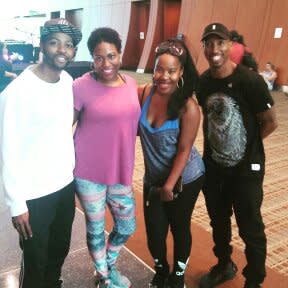 Hey there Sunshines, I'm Golden, a licensed massage therapist, aromatherapuetic bodycare formulator. Although professional dance is not my calling, massage is and so I'm going to use all my gifts and talents to stay connected, support and give back to the dance community. That is how Beats + Balance Massage Studio was born.  Sparked in 2012, Beats + Balance is a massage, foot and body care practice that understands that for dancers, it's important to keep mind, body and spirit, healthy and in harmony. Massage is a natural complement to the dancers health and well-being. Massage can help keep your body toned, relaxed, and nurtured. Incorporating Therapeutic Sports and Relaxation massage with balancing pedibathes in urban dance communities to support overall health, injury prevention, body maintenance and relaxation for anyone looking to achieve and maintain their highest level of performance is what Beats & Balance is all about! Careful planning and focus is put into creating a reasonably priced preventative health solution that inspires artistic creativity, in a professionally laid-back and positive atmosphere dancers can appreciate and relate to.
However, since moving to California in 2013, things haven't been easy business wise from personal and financial setbacks, to licensing delays and even rejection from the producers and owners of a major dance show that I watched while back in Detroit. I've also had a few successes  like interning at World of Dance, working the 2016 BuildaBeast Experience and even having the chance to massage Dance Mom stars like Maddie Zielger and Kendall Vertes! I've got to keep going.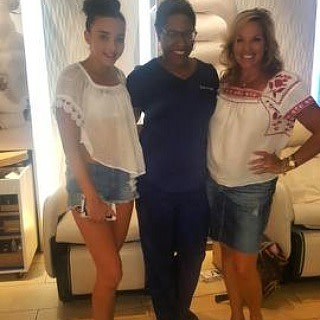 Committing myself to overcoming fears, doubts and rejection, knowing a day doesn't go by where I don't think about Beats + Balance, I am refusing to give up to finally and fully manifest my dreams. I am asking for your help, support and donations because:
Somewhere right now is a dancer giving their all class after class going home to do the same thing tomorrow without even taking care of their body properly

because after a long dance day you said to yourself, "Man i need a massage!" or you've asked your teammates for a foot rub.

because you've felt aches, pains and soreness in legs, lower back and shoulders but chose to ignore them. (In my Drake voice, Don't do it please don't do it)

 because you just really want to put your whole body under warm water with some epsom salt and soak.

 because you're stress af bro – between school, work, rehearsal, auditions, practices etc,  you really need to chill and relax

because you might have even suffered an injury and/or currently going through the rehabilitation process
Massage can help with that (yes, it's true I even work with doctors at a physical therapist office but you can check out my bio here) Don't let minor injuries become major setbacks. Let's get you right, right then and there! Be the  innovative studio that shows how much they value their dancers and staff. 
Imagine:
Walking out of class and being able to purchase the self – care bath soaks, health, beauty and wellness products you need for your self and others.

Being on set and in between breaks receiving a quick 5 min foot, back or neck massage that not only provides relief but boosts energy.

Having someone who supports and believes in you, listens to you without judgment and genuinely cares about you and your overall well-being?
That's what Beats + Balance provides and much more.
Funds will go to sturdy and travel friendly equipment & materials (foot baths, hot towels, sheets, yoga mats and fitness aids) dance studio room rentals, vendor/sponsorship and event fees (i.e World of Dance events), branding & retail display, creative content creation,  cohesiveness in marketing and social media presence, purchasing qualities ingredients for recipes and bodycare blends  (i,e essential oils, natural butters/oils, healing herbs), continuing education courses, first aid/CPR certification, insurance and legal fees, licenses & paperwork and to whatever will help make Beats + Balance affordable and accessible those who needs it most. I'm going to help as many dancers and dance lovers (and few of my favorite Kmusic artists) as possible with products and positive lifestyles changes to help them achieve their goals. I live to serve you as much as you live to serve killer moves and faces! 
Help me in making Beats + Balance Massage Studio become the ultimate in self-care, stress relief and injury prevention in the urban dance community!
Thank you for your support and any donation. You may be seeing Beats + Balance at your nearest dance studios as early as September 1st( negotiations pending)
Even if you aren't able to donate just sharing on your social media pages and getting this projectin front of the proper channels people, studios, friends and family members can make an impact.
P.S: You even get to receive some handmade herbal first aid and exclusive body care items from yours truly  before anyone else.  How cool is that, right?